Cooperation of CNP ASFALISTIKI and MINISTRY OF DEFENCE for the Road Safety to National Guards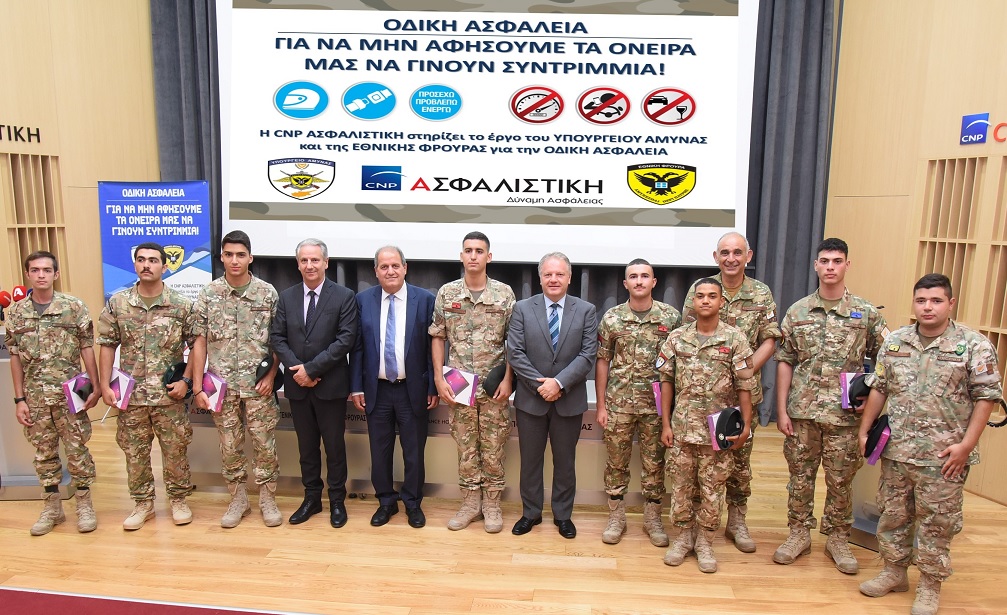 Ακολουθήστε μας στο Telegram για να μην χάνετε καμία είδηση!
CNP ASFALISTIKI, in a long-term cooperation with the MINISTRY OF DEFENCE, implements a series of actions which aim to promote the appropriate road safety messages, cultivating a culture of road conscience by our national guards.
This action takes place in the context of initiatives undertaken by the CNP CYPRUS Group and its companies, CNP ASFALISTIKI and CNP CYPRIALIFE, aiming to a strong positive social and environmental impact, as an outcome of responsible business practice.
Within the framework of the Scheme, "Positive Incentives Policy", which concerns the free use of buses for moving from and to their units, CNP ASFALISTIKI has awarded with a tablet 10 soldiers who have systematically used this Scheme. Having the protection of human life as a number one priority, it is worth to mention the environmental benefit from collective transportation, via buses, because of the gas emission reduction from the individual transportations.
At the event held on June 28, 2022, at the headquarters of the CNP CYPRUS Group, speeches were given by the Permanent Secretary of Ministry of Defence, Mr. Andreas Louca, on behalf of the Minister of Defence, the Inspector General of National Guard Major General, Mr. Michalis Xatzidimitriou on behalf of the National Guard Chief, the CEO of CNP CYPRUS INSURANCE HOLDINGS, Mr. Takis Phidia and the General Manager of CNP ASFALISTIKI, Mr. Andreas C. Stylianou.
Ακολουθήστε το Cyprus Insurance News στο Google News και μάθετε όλα τα ασφαλιστικά νέα από Κύπρο, Ελλάδα και τον υπόλοιπο κόσμο!